SlingStudio works with most cameras that are equipped with an HDMI output port. But not all HDMI outputs are created equal! For best results, you need a camera that provides what is referred to as clean HDMI output.
What is clean HDMI output?
Clean HDMI output is HDMI video that does not contain any of the onscreen data indicators that you see in a typical video source viewfinder, such as recording status, exposure setting, remaining recording time, battery charge, and so on.
Here is an example of HDMI video output that is not "clean":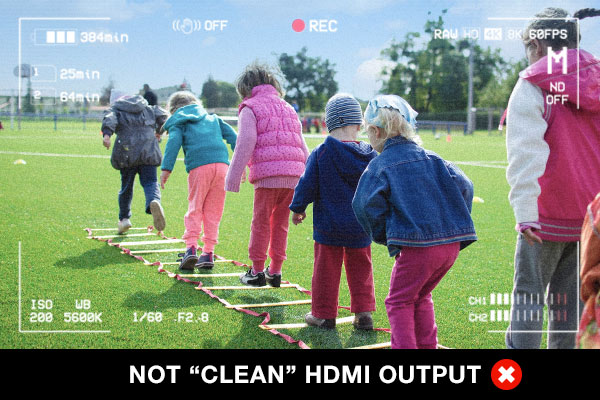 By contrast, clean HDMI output looks like this: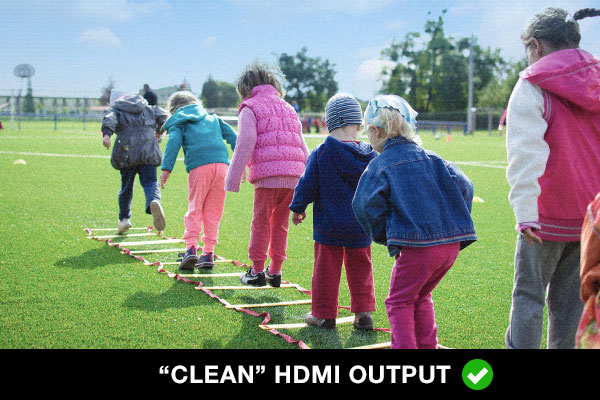 This is what's happening if you've ever wondered "Why does camera data appear in my SlingStudio project?"
Generally, HDMI output that is "not clean" is considered undesirable for use with SlingStudio. However, if displaying the viewfinder data doesn't bother you (or if you prefer having it display for some reason) then a camera with not-clean HDMI output should work fine with SlingStudio, as long as the video and audio outputs otherwise seem to be okay.
Testing a video source for clean HDMI output
It's pretty straightforward to test a video source for clean HDMI output:
Connect the video source to a TV or monitor using an HDMI cable.
Note: You must use an HDMI cable for this test. Testing with other types of video cables, such as component cables, is not helpful.
Review the resulting output on the TV or monitor:

Do you see the image only? Then your video source appears to output clean HDMI.
If you see the image along with overlaid viewfinder information, then your video source either does not output clean HDMI, or else it needs to have a setting changed to do so.
Video sources that display clean HDMI output via a TV or monitor generally work properly with the SlingStudio system.