What's happening?
Currently, it is not possible to select either Groups or Events as a destination within SlingStudio Console when broadcasting using Facebook Live.
You must instead choose Pages as your Facebook Live broadcasting destination, or you can try the workaround at the end of this article.
Why is this happening?
As part of Facebook's current efforts to address data protection for users, Facebook has mandated that:
All previously-approved Facebook apps, such the SlingStudio Console app, undergo a rigorous re-approval process;
Apps have no access to any Groups or Events until this re-approval is completed.
This policy was instituted by Facebook on April 4, 2018.
What this means for SlingStudio users is that, for now, it is not possible to use Facebook Live to broadcast to Groups or Events.
What will I see?
In both SlingStudio Console for iPad, as well as SlingStudio Console for Mac, you cannot select Groups or Events as a Facebook broadcast destination. Instead, you see an empty list (using Groups as an example here):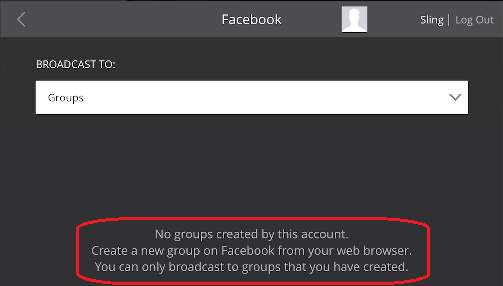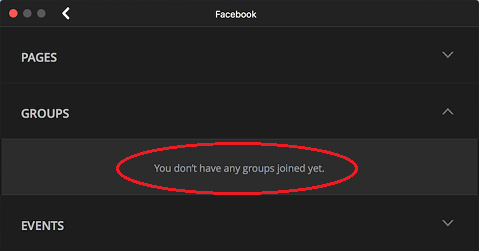 Again, your only option currently is broadcasting to Pages, which should work normally, or try the workaround below.
This restriction has been created by Facebook. It is unrelated to Sling Media or the SlingStudio product.
Unfortunately, there is no estimate as to when or how this problem will be resolved by Facebook.
A workaround that you can try:
There is a possible workaround. Instead of publishing directly to a Group or an Event, you can publish to a Page; then from that Page you can redirect the video to a Group via the Facebook website.
Here are the steps:
Log in to your Facebook account from SlingStudio Console.
Select a Page or Timeline from SlingStudio Console (along with any privacy option you want).
Select the GoLive option from SlingStudio Console.
Once broadcasting has started, go to a browser window and log in to Facebook with same Facebook account credentials that you just used.
On the Page or Timeline that you've chosen for the video, there is share option. Select Share -> Share in a group -> [Group name] then post.
Go to the group, and you should see the live video.